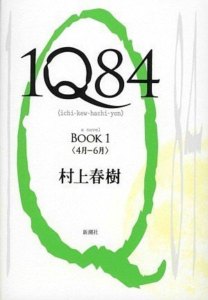 I was, chronologically speaking, about to graduate. Unfortunately, the work that led to that moment meant I'd caught up on podcasts. Nothing left to listen to1This is… relative, but the practical effect is as described.. That not having happened in some time, I panicked, decided I should listen to more of the kinds of books adults listened to, read, or at least pretended to listen to or read, and put a bunch (four) of Murakami novels and short story collections on my phone. 18 May, 2022, according to Overcast's timestamp. I liked Colourless Tsukuru Tazaki and His Years of Pilgrimage, I liked, mostly, the short stories I'd managed to find. Killing Commendatore seemed too imposing, which just left 1Q84.
Unfortunately, "catching up on podcasts" doesn't stop podcasts coming and coming, or Big Finish dropping box set after box set, and soon enough, both 1Q84 and Killing Commendatore were but ideas at the bottom of a pile. Piles upon piles upon piles. So, this summer, more than a year later, having both graduated and finished the first half of a follow-up degree, I finally put it on. A choice, curiosity finally getting the better of me, not just because I'd run out of podcasts.
So. 1Q84. Tengo is a cram school math tutor with aspirations towards published authorship who is asked to shepherd a young writer's amateurish manuscript to winning a new writers' prize, only to discover the magical realist work of fiction is actually a true story meant specifically to disarm the real forces behind a dangerous cult. Aomame is a personal trainer slash personal assassin whose line of work eventually puts her in the position of having to take out the leader of a dangerous cult. They had a brief interaction once, as children, and long to reunite. 1Q84 is the story, told in alternating point-of-view chapters, of how they find themselves finally drawn back together in another world entirely.
Where Murakami thrives in his portrayal of this shared journey is in his descriptions of process, ritual, work. Whether that's Tengo's writing or Aomame's killing, the ritual of reading to a comatose parent or of the departure from one world to get to another, or repetitive, boring time spent in isolation, it's his descriptions of these two people going about their well-rehearsed business where the book really comes alive. Murakami really sells Tengo's writing as an act of magic, Aomame's killing as a cosmic duty. The travel to another world an accident, a spell tripped into, but a ritual nonetheless.
But it feels like the book reviews itself in its reviews of Fuka-Era's novel Air Chrysalis. The magic2The magical kind, not the process, ritual, work stuff I describe above, which, in fact, gets pretty thoroughly explained., reviewers say, is left unexplained, the ending is too ambiguous. But that Murakami himself is clearly aware of the easy criticisms you could lob at 1Q84 — and a lot of his work in general — doesn't mean they're not true. If you don't want people to say your ending is too ambiguous, you write a different ending, one where all the other plot strands don't slowly fall away until even the A-plot falls away into another world.
So, yes, the ending is ambiguous. It would almost have to be. The magic, of Little People and Air Chrysalii, is vague. Would the book be better if Murakami explained what the Little People eat for breakfast? I haven't even mentioned the absolutely impressively miserable sex scenes, which I'm pretty sure aren't actually meant to be gross, they're just written from a purely Male Writer's Perspective, there's truly no attempt made to see it from any other angle. But does any of that matter that much when the journey is so riveting? Does any of it matter when the prose — translated by go-to Murakami translators Jay Rubin and Philip Gabriel — really, genuinely manages to engross in way that makes me go, oh, yeah, the absolutely wild thing that's happening right now makes total sense? It really doesn't.
Of course, the quality of the audiobook specifically also goes a long way to why I feel that way — narrated by Allison Hiroto in the Aomame chapters, Marc Vietor in the Tengo chapters, and then in the third volume by Mark Boyett in the Ushikawa chapters, each character's respective reader so fully embodies both the story and the character that when Aomame and Tengo are finally reunited in the final chapters and their readers voice their dialogue in the other's chapters, it moved me in a way prose never could have. They've not just reunited, they're talking to each other.
Terrific.
1

This is… relative, but the practical effect is as described.

2

The magical kind, not the process, ritual, work stuff I describe above, which, in fact, gets pretty thoroughly explained.